So to start with I fess up, I am not a vegan, I am a guilt ridden meat eater, whom, I have to say after looking into the vegan recipes and talking to our lovely vegan customers is now cutting out almost all meat, eating only fish occasionally and looking towards ethically sourced milk. <blog_break>
We didnt start our pasty business with the aim of making vegan pasties but sometimes your journey takes a turn you never expected that leads you to delightful new discoveries. This is exactly how our vegan range came about. We were happily making our usual pasties when we started to get requests for vegan pasties. This coincided with long chats with my lovely friend Kate, owner of Gnosh, who produce epic vegan butters, cheese and meat substitutes, she opened my eyes to how tasty and satisfying vegan food could be.On the back of this we started to experiment and I have to say we have had great fun playing with flavours.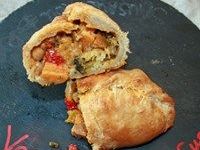 OTT pasties now has a growing range of tasty and unusual vegan pasties. Our personal favourite is the barbecue jack fruit pasty, with its complex flavours and slight heat its a winner every time. However we do have a soft spot for our seitan pasty, all the taste of a traditional steak one but no guilt. We entered this into a local pasty competition, we didnt win (that is another story!) but not one judge picked up that it was meat free. Now when pasty judges miss that it wasnt a traditionally made pasty, we are happy our job was done well!
We hope you like our, ever growing vegan section and please watch this space for further flavours. If you have any suggestions, please tell us about them in the comments below